How publishers make, manage, and monetize their newsletter community.
Publishers already using Letterhead
📢 Most email tools are for marketing.
Because of this, publishers have to duct tape multiple products and build complex systems to simply start the process of building relationships with their readers.
Letterhead comes complete with all the capabilities needed to deliver emails that people want.
✍️ Focus on making great content.
Authoring and content insights unlike anything else.
Newsletter creation that saves time
Fast and flexible writing interface saves hours of time and effort — no coding required

Customize your templates with fonts, colors, layouts, and branding

Automatically insert promotions, ads, and sponsorships
Make a more engaging content product
Simply pull in content from your website, CMS, and social feeds
Accessible, responsive default templates that are easy to read on any device
Tailor your content for specific audiences
Send custom newsletters to user segments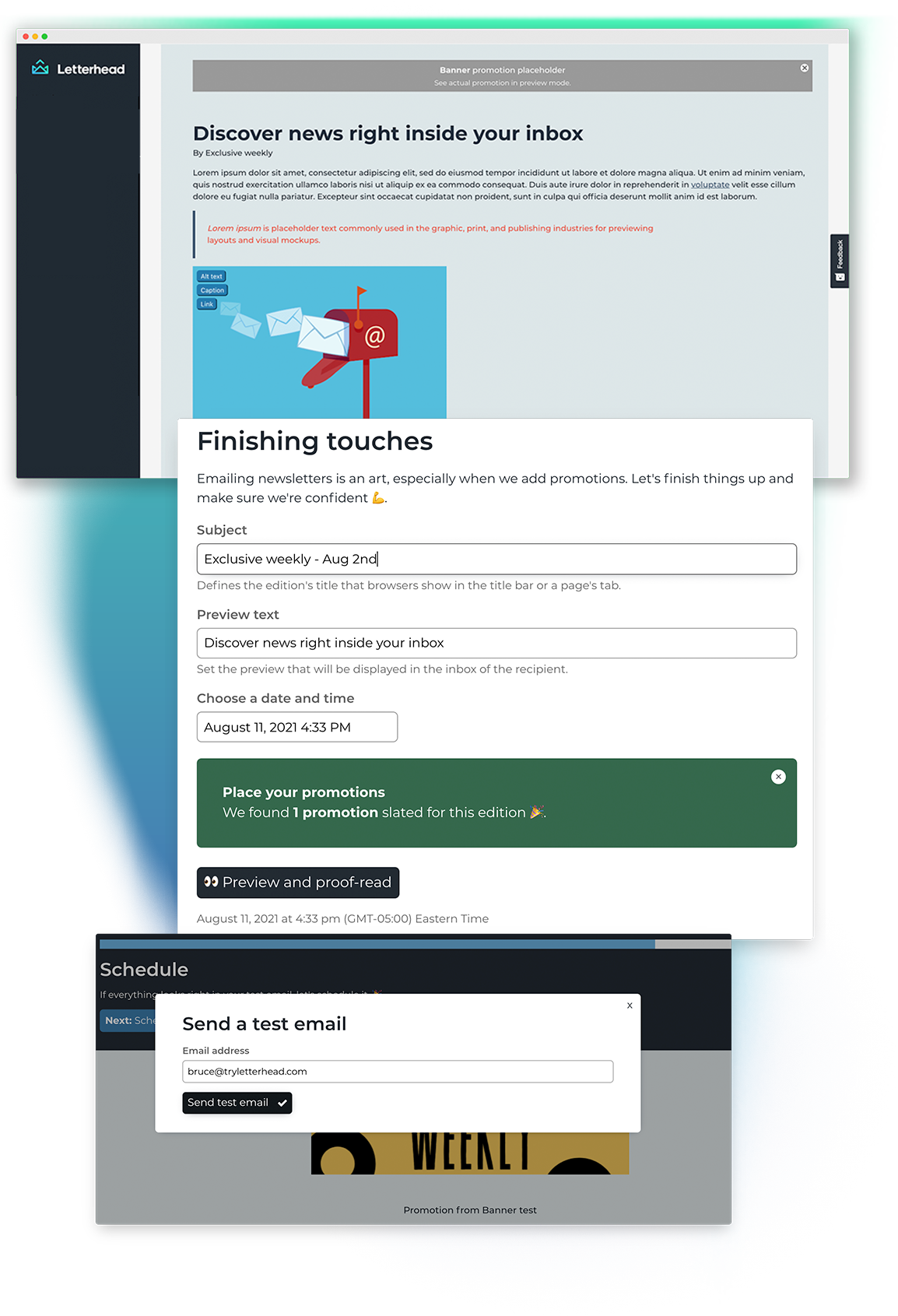 🙌 Manage your community.
List management and user data specifically for newsletter communities.
Understand your community
Track your list growth over time

Measure your performance for every campaign

Understand engagement for every subscriber
Target users based on interests and behavior
Build your own taxonomies

Create and save segments based on your tags
Data Portability
Simply export your list and campaign data
Grow your community
Import subscribers through Zapier, API integrations or upload

Embeddable signup widgets

Hosted archives
Integrate with your tools
Sync your user data to your CRM or CMS through Zapier
💰 Monetize your product.
Sell ads and make money in a way that makes sense for your community.
Design and manage your inventory
Create ads that work for your community
Control publication schedules
Promote internal offerings, products, and programming
Sell advertising and sponsorships direct
Accept credit card payments through

Stripe

Revision and approval workflows
Target and upsell prior customers
Pricing control
Set dynamic or fixed pricing for your ads
Offer discount codes
Create private packages for your most important customers
Simplified analytics for you and your customers
Understand your sales performance
Automated metrics reporting for your customers
Easily link delivery analytics to ads; monetization reports for marketers
Ability to allow marketers to target user segments (future)
Grow your advertising revenue
Access to third-party demand (alpha)
Request Access to Letterhead