AD MARKETPLACE
Generate revenue from day one.
Our marketplace provides every customer with a gallery of ready-to-go, pay-per-click and pay-per-open sponsorships from leading brands like Hulu and Skillshare. Plus, access to our network of agencies and ad buyers who work with us to place campaigns across newsletters on Letterhead.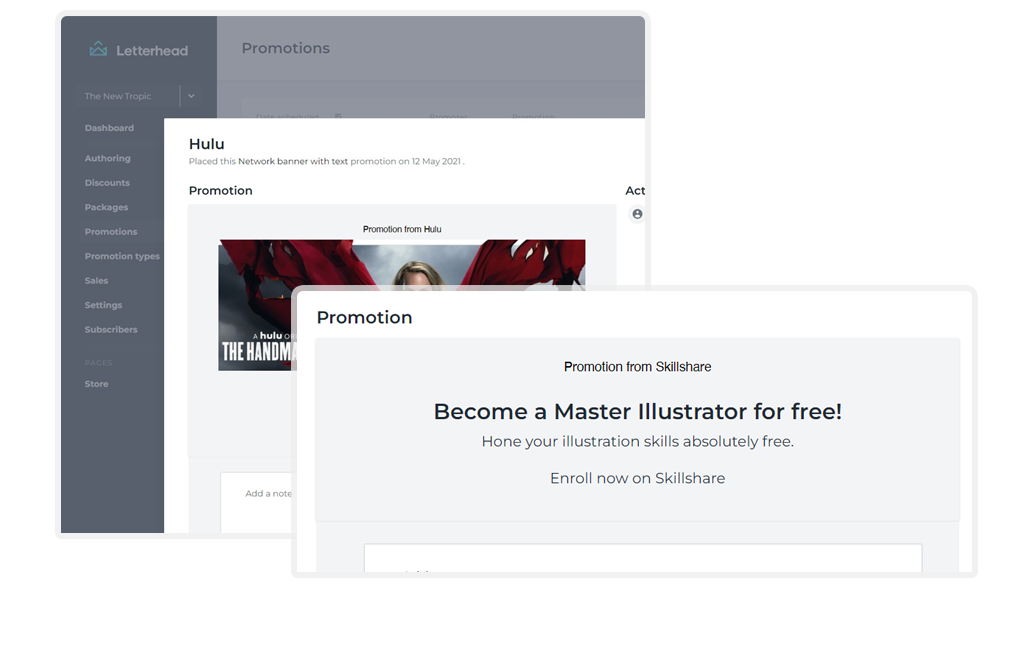 REVENUE FOR EVERY SEND
Never send without revenue.
Our ad marketplace enables you to generate revenue with every edition of your newsletters, with placements from top brands and access to our network sales team. Along with direct-sold and self-service strategies, the marketplace helps you grow revenue and showcase your inventory to new potential advertisers.
Pick available sponsorships
Use our gallery to select from dozens of CPC and CPM ads we've curated from quality brands.
Booking requests from our partners
Our team works with agencies and buyers to help them find the right newsletters to advertise in,
Pick ad types you want—text-only, images, banners—and edit ad copy to fit your audience.
Only ads approved by you run in your newsletter, and you're always able to see the content your users will see.
LEARN
Best practices for email newsletters
Get our newsletter on the business of email.
Tips, tricks, news, best practices, and more, delivered weekly. It'd be weird if we didn't have our own newsletter, right?