PROMOTIONS
Sell and manage ads in your newsletter
Great newsletters can command great rates for sponsorships, ad placements, and partnerships—but they're hard to sell, manage, deliver, and track.
We built Letterhead to make it easy to monetize your newsletter, manage your inventory, and deliver your advertisers an amazing experience.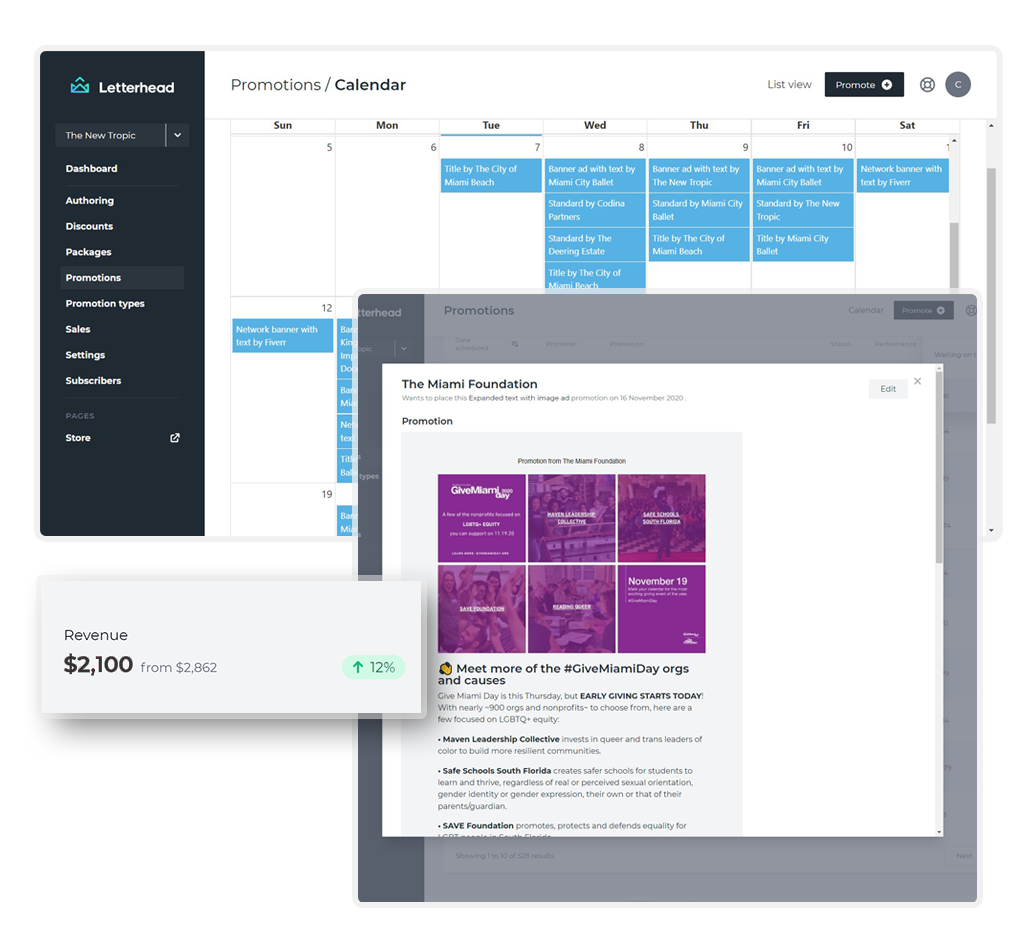 MORE REVENUE, LESS HEADACHE
Simple workflow, powerful features
Whether you're already running a newsletter advertising/sponsor operation, or just getting started, Letterhead has the industry-leading tools to help.
Create any promotion, ad, or sponsor slot you can imagine, from text to banners to GIFs to custom content stories. Control every detail.
Letterhead's built-in store lets you sell ads just like the big platforms do: self-service, easy-to-use, easy checkout, and full reporting.
See your upcoming promotions, measure sell-through, and manage your direct-sold promotions.
Using Authoring, Letterhead makes it easy to place promotions in your content, so you never miss a date.
Letterhead tracks views and clicks for every promotion, and can even show the reports to your advertisers through their own portal.
Two-way approvals & messaging
Every promotion gets reviewed & approved by you. Request changes and message from within Letterhead.
Build recurring revenue with subscription packages for ongoing sponsorships.
Get ongoing access to our team of newsletter monetization experts, who help with everything from pricing to design to sales.
LEARN
Best practices for email newsletters
Get our newsletter on the business of email.
Tips, tricks, news, best practices, and more, delivered weekly. It'd be weird if we didn't have our own newsletter, right?